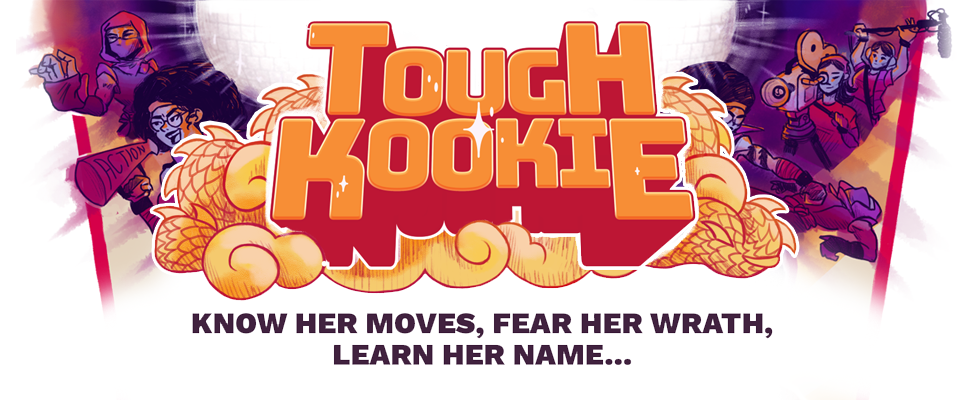 Tough Kookie
A downloadable game for Windows
Disco meets kung-fu movies!
Play as Tessa Kirby, a.k.a. Tough Kookie, a groovy martial arts action movie stuntwoman/director of the '70s, aspiring to become the biggest action movie superstar of her time.

Tough Kookie is a third-person beat'em up game with a twist, set in a fantasized version of the movie-making industry of the '70s.
Shoot the most spectacular fight scenes, while managing the scenes' camera placement to fulfill your goal.

What you'll play is a prototype that features 3 levels/contracts, plus the movie studio, for a total playtime of about 20 minutes. After completing the final contract, you can replay the others.

Useful Info & Controls
/!\ You need a very good machine to run Tough Kookie properly. It's possible that you may encounter some issues during your session, but if you are blocked, restarting the game fixes everything (well, except the quality of the game). /!\
The game plays only with a gamepad. The controls are explained and displayed in an in-game tutorial. The controls during the camera placement phase are displayed at all times. Here's the list of the fighting part controls as a reminder:
LEFT STICK: Move Around
RIGHT STICK: Look Around
X: Attack

Y: Attack Variation
RB: Parry
RB + LEFT STICK direction: Dodge

A: Take/Push Object
B: Throw Object

Press LEFT & RIGHT STICK: Enter Super Mode (if arm glowing)
START: Open Moves Recap & Pause Game
Credits
TOUGH KOOKIE is a student graduation project, developed in a year, by 8 students from Rubika Supinfogame, France. The game was made with Unreal Engine 4.
Huge kudos to the development team:

We'd also like to especially thank our additional helpers:

+ Our Twitter: @ToughKookieGame
+ A nice article from Alpha Beta Gamer
| | |
| --- | --- |
| Status | Released |
| Platforms | Windows |
| Release date | Oct 14, 2020 |
| Authors | Tough Kookie, mim, Soaren, Laoil(LouisC), Rubika Supinfogame Graduation Projects |
| Genre | Action |
| Made with | Unreal Engine |
| Tags | 3D, Beat 'em up, Comedy, cookie, disco, Female Protagonist, Singleplayer, student-game, Third Person, Unreal Engine |
| Average session | About a half-hour |
| Languages | English |
| Inputs | Xbox controller, Gamepad (any) |
| Accessibility | Subtitles |
Comments
Log in with itch.io to leave a comment.
The visuals, mechanics, stellar-smooth gameplay and overall originality of concept make this game one groovy good time!
Show post...

VERY FUN GAME DEV
Hey I gave this a shot! I really loved the concept and the overall art direction nails the vibe.
Positives: The camera concept works great, especially once you can place the cameras, and it works really well with the object stuff. The feel of the workplace film set is great too, and I really really liked the shaky-cam intro sequence.
Negatives:
There's something going on with the free roam in mission select mode that was giving me motion sickness, something to do with the refresh rate update or the motion blur or something but it was legit making me nausous
the fighting doesn't feel crunchy or good to hit, felt kinda stiff, enemies don't really 'react' to getting hit super well either, just feels like you're chipping away at them (unless you hit them with an object which does feel good)
It didn't have sound for ages until it hit the real main menu, so I thought something was wrong
I alt-tabbed out to check something and when I came back it had lost gamepad input and I couldn't get it back
It's super interesting for a student project! Great job!
Hi! Thanks a lot for the feedback!

We know there are some issues but we hope you had a great time!

It looks funky and feels punchy! Love the concept ♥

I really want to play this game because it seems neat but when i boot it up it won't get past the screen saying you need a controller and i have one plugged in.
Hi! The A button of your controller is supposed to get you past this screen. Please make sure your controller is plugged in before you launch the game.
You'll get groovy soon!
thanks i had to reset up my controller and it worked. Got to say i love the art style and look of the game but sadly it kept crashing one me ;-;
would seem to always crash during combat and the y moves would also sometimes not hit. I do like the idea of the game though and really want to play.
Well, that's not supposed to happen! Could you give us more information about the steps of reproduction of the crash? It would help us a lot for the fix.
Thanks a lot and sorry for the inconvenience!

Show post...

please version keybord.
Hi! We are not planning to do a keyboard version of the game, sorry :/
Show post...

i think big error no make version keybord... i am working for lobby game a++ ... game for pc alwasy have select joypad and keybord.... .. think no problem for dev make version keybord ..lol
When we made the prototype (and please keep in mind this is a student video game :) ), our biggest constraint was the time. Although we know how to implement a mouse & keyboard version, we decided to focus our efforts on the feel of the best controller to transmit our experience, and that's the gamepad for Tough Kookie!
Hope you understand :)
Show post...

ok prototype ...dont miss lot people like play keybord. ... jaypad look only for console ...but respect student videogame lol ...think this game have good idea...
Oooh, this looks good! Looking forward to trying it, thanks so much for sharing.